Oo, kaibigan mo lang ako!
Posted on August 06 2016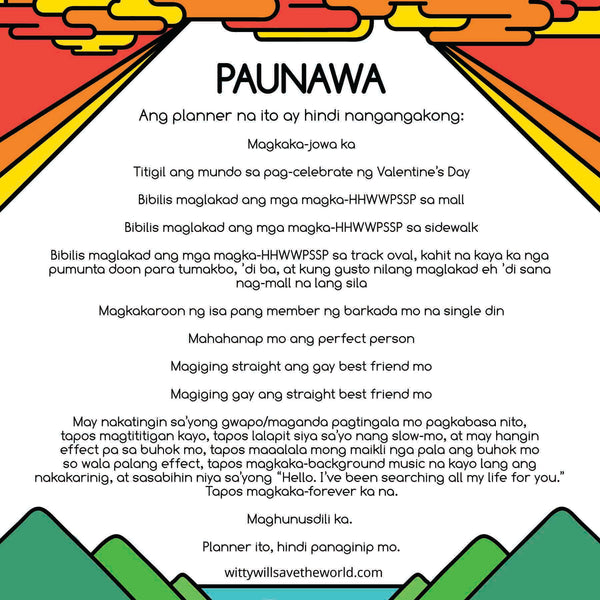 Note: This article was first published in The Philippine Star on July 11, 2015.
Dear Tita Witty,
Gusto ko lang mag-share ng katangahan. I'm pretty sure I'm not the only one in this situation.
I'm in love with my best friend.  Siya ang nasasabihan ko ng lahat ng bagay tungkol sa akin. I tell him everything – if I'll be late for work, if I tripped on something For the last two years, he's been my travel buddy, movie buddy, Maginhawa dining buddy, badminton buddy, shopping buddy, everything. We chat and text EVERYDAY.
I love him. Pero hindi pwede. Because he's gay. Alam ko naming hindi pwedeng magbago ang preference ng beki.
I am so, so sad. I don't to be hopeful anymore. I want to move on.
What should I do, Tita?
Dear More Complicated Bujoy,
It's okay to be tanga, as long as you're aware that you are and you want to get out of the situation.
At least you're not denying the fact his preference won't change – nasa first step ka na kaya congratulations!
Here's what you can do:
Don't make him your favorite friend. Wala ka bang ibang friends na pwedeng kasamang mag-travel, mag-badminton, kumain, mag-shopping, and everything? Siguro sa badmintion, wala nga, pero kumain? I mean, who doesn't like to eat?! Spend time with other friends.
You don't have to tell him, or anyone for that matter, every little thing that happens to you. You don't have to tell anyone you'll be late for work except  your boss.  Why do you have to tell anyone that you tripped? Or what you're having for dinner? Or how many times you sneezed for the day? Okay lang naman na ikaw na lang nakakaalam nun, 'di ba? 
It's okay to be sad. There is no rush. Healing takes time so be gentle with yourself. Pag medyo ready ka na, ask your friends to set you up with someone.
'Wag kang maniwala kay mareng Adele na you'll find someone like him. You'll find someone better than him. Pag wala pa, isipin mo lang ang sabi ni Tita Whitney: "I will always love you". Ay hindi pala 'yun, eto pala: Learning to love yourself is the greatest love of all.
XOXO,
Tita Witty