NBSB 2.0
Posted on August 06 2016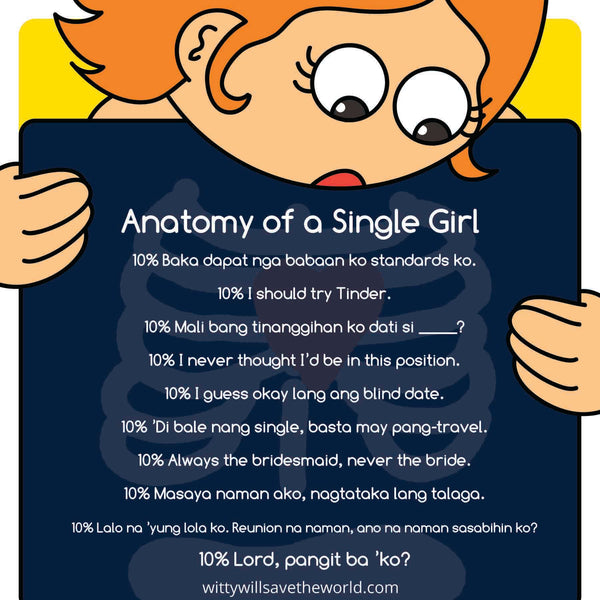 Dear Tita Witty,
I loved the way you answered the 22-year-old NBSB (no-boyfriend-since-birth)'s question a few weeks ago. I'd like to tell her she's still so young! Try kaya niyang tumuntong ng 28, lalo mo nang feel na feel ang pressure.
My friends say I'm choosy but I refuse to believe it. Mas kaya ko pang tanggapin na panget ako kaya 'di ako nagugustuhan, hahaha!
I'm the only girl in the family. 'Di naman ako kasing maton ng mga kapatid ko but I'm not girly either. Natatapangan yata ang mga lalaki sa'kin at samahan mo pang malaki talaga akong bulas (5'7"  in height).
When I entered college I started dreaming that someday, someone will come and be there for me. 'Sus, inabot na ng dekada wala pa rin. Medyo trip ko 'yung first and last, kaya 'pag di ko feel maging future hubby ko waley na.
I was just looking for that someone na kakayanin ako, like siya ung magpapasunod sa akin, kaya akong ipagtanggol at syempre 'yung sinasabi nilang may "spark". Am I being choosy for wanting those things?
Do you think there really is that one person for you?  If so, can I still wait for him?  O dapat ko nang itigil ang imahinasyon kong may "spark" sa taong mamahalin mo?
Salamat sa magiging tugon.
Love lots,
Ana
Dear Ana,
Yes, eto na naman tayo sa pressure. I cannot blame you, though, dahil sadyang ganyan ang mundong ginagalawan natin. Don't worry, when you get a boyfriend, the next thing they'll ask is, "Kelan kayo magpapakasal?". And when you do get married, they'll ask, "Kelan kayo magkaka-baby?". And when you do have a baby, "Kelan 'yan susundan?" And when you do have a second child, "Kelan ka papayat?". I know, NKKLK.
It's not so clear to me if you've ever gone out on dates. Sabi mo hindi ka nagugustuhan, but then you also said meron kang hindi feel maging future hubby. Random strangers ba ito na naglalakad lang sa mall at naisip mo'ng, "Hmm, 'di kita feel."?
The next time someone asks you out, go! How would you know he's not hubby-material if you don't even spend time with him? It's okay to have standards, but sometimes it's also okay to let some of these go.  Especially when you're really happy together and if he makes you grow as a person, hindi mo na mapapansin 'yun. Although ang weird ng standards mo 'teh, ha. Why do you need someone na magpapasunod sa'yo? Hasn't your boss been doing that to you? At saan ka ba sasabak at kailangan kang ipagtanggol?
As for the "spark", it's called a spark because it's only there for a very brief time. Sa una lang 'yun. What's important is to keep the fire burning forever. WUW.
I don't think there is one person meant for everyone because some people are able to live out their purpose better if they're by themselves. You'll know for yourself if you should wait if there is one for you or not. It doesn't matter if you're 28, 38 or 68 – only you can decide if waiting is a sound idea.
 I also don't think being attached is synonymous to being happy, just like being single is to being lonely.  Remember: love from family and friends is just as powerful as any other love.
XOXO,
Tita Witty
Send in your tatanga-tanga sa pag-ibig questions to deartitawitty@gmail.com or to facebook.com/wittywillsavetheworld.