I'm gay but he's not.
Posted on August 06 2016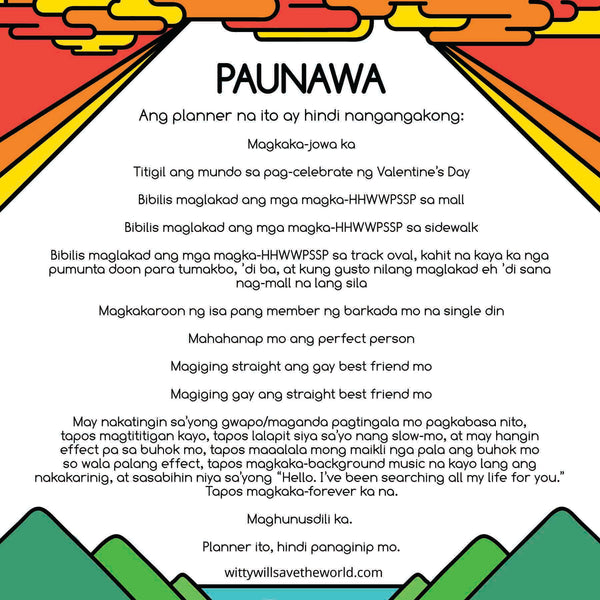 Dear Tita Witty,
I'm a med student in one of the big hospitals in Manila. I recently came out as gay to my blockmates and friends. I am attracted to one of my blockmates who is straight. Being blockmates, we spend all the time together in the hospital during our rotations in the different departments. Being medical students, we are exposed to a lot of stress and the workload that we need to finish each day is no joke. During our off  times, my straight friend and I would talk about the most trivial things, anything to distract us from the crazy world of medicine. From these interactions that we've had, I found myself falling for him. I would like to believe that I am mature enough to understand that there is no future between us because he's super straight and there is no ounce of gayness in him. I was okay with being just his friend.
However, recently, the girl he has been asking out said yes to him and I thought that I would be okay with it. But seeing them together makes me feel sad and hurt and lonely. Turns out I was not equipped to deal with him being with someone else, especially a girl.
Please, Tita Witty, I need advice.
Love,
Doctor-to-be with a Broken Heart
Dear Doctor-to-be with a Broken Heart,
Sigh. If only we could buy your straight friend 100 liters of gayness, your problem would be half-solved.
I'm so sorry, sweetie, but there's nothing you can do here but to start forgetting. I understand that would be very difficult for you as you see him very often pero 'yun talaga ang kailangang gawin. I'm sure you have other friends in the hospital; do spend more time with them instead. Don't worry, now that he's with someone he'd be spending less time with you. Wait – comforting dapat 'yung statement na 'yun, ewan ko bakit naging ganun ang dating. I mean it would be a bit easier to forget since you'd be seeing less of him. Syempre kapag off niyo, may iba na siyang lakad. Kaya ikaw rin, gumawa ka ng sarili mong lakad. And don't text/chat him while you're at it, kaloka.
It seems the usual ways of getting over him [delete his number, don't listen to love songs, don't watch love stories, don't go to places that would remind you of him ( dahil hello the hospital would always do that), etc.] might not work for you. So eto na lang: If you can, go on a date. With someone else, hindi siya. If you can't, then learn something new like cooking or painting. I know, hindi mo pa rin siya makakalimutan by doing that, pero at least may bago kang alam, 'di ba?
You have to believe that you can and will forget about him one day. For now, it's okay to be sad and hurt and lonely. The time will come that you will realize you don't want to be those things anymore, and that being happy is actually a decision.
XOXO,
Tita Witty
Send in your tatanga-tanga sa pag-ibig questions to deartitawitty@gmail.com or to facebook.com/wittywillsavetheworld.